How can I find an authorized FPIC Distributor?
You can also contact info@sz-fpi.com to get further details on distribution.
Where are your sales offices?
FPIC has sales offices located in Shenzhen.
How long is a FPIC quote valid?
FPIC quote's validity period is usually within 1 month.
Where can I get pricing information?
Please check with your existing contact at FPIC or email us at Email: info@sz-fpi.com  if you do not already have one.
What are FPIC payment terms?
For new customers, FPIC payment terms are T/T in advance. After a certain period of time, payment terms can be discussed.
What is the MOQ of this product?
Our standard MOQ is 2K pcs. If the product uses special materials or plating, the MOQ will be adjusted accordingly.
FAQs on Quality Assurance
Where are the products tested?
All FPIC products are tested in our well-equipped laboratory. If you prefer, we are also open to work with a third party laboratory.
What if my product has a problem after I receive it?
Please reach out to your existing FPIC contact or email us at Email: info@sz-fpi.com. our quality team will get back to you within 1 day.
What kinds of certifications does FPIC have?
FPIC  is ISO 9001, ISO 14001, IATF 16949 approved at its headquarters in Shenzhen.
Will FPIC provide a formal ROHS CoC (Certificate of Compliance) for their products?
Yes, we can provide these compliance upon request. Please contact us at Email: info@sz-fpi.com
How does FPIC ensure the quality of its products?
Our products have to go through intensive inspections at various stages before being shipped out to our customers.

Does FPIC manufacture the products?
Yes, FPIC is one stop connector supplier, from product design, tooling design and manufacturing, stamping hardware part and injection molding plastic part producing ,and automatic assembly.we complete these processes in house.
How does FPIC accommodate different volumes of need?
Due to the different production methods that we employ, FPIC is very flexible in terms of order quantity and customization.
Fully automated assembly machines allow us to achieve efficiency for high-volume production.
For medium-volume production, we developed modular automation. with this process, similar products can also share processes to reduce the quantity of machines turnaround.
Is FPIC production center available for audit?
We encourage you to visit our production center to see how the products are produced. An audit can be arranged with our Quality department. Contact us at Email: info@sz-fpi.com for further information on audits.
What isFPIC tooling development lead time?
On average, it will take about 20 business days to develop the tooling of a new design. It will be much shorter if the design is a modification of an existing design.
What is FPIC production lead time?
Our standard lead time is 2-3 weeks upon receiving the order. If the stock is readily available, the lead time can be shortened.
What are FPIC R&D capabilities?
Our team can utilize various computer software to optimize a design. When a part is developed, it will be fully tested in our well-equipped lab. In regards to manufacturing,automation is available for high-quality mass production.
See the graphic below for further understanding.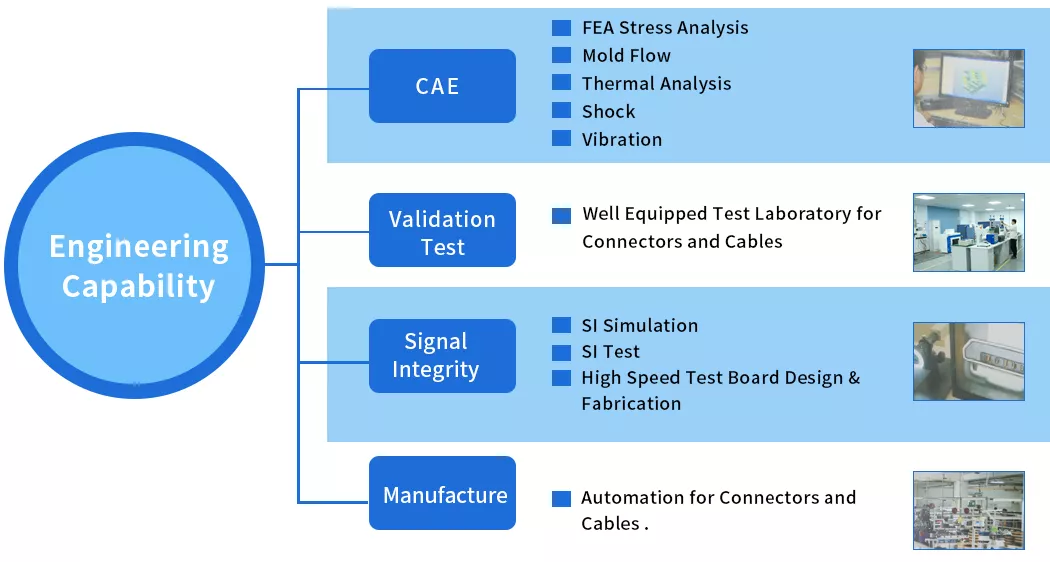 Can your team design products based upon our needs?
Yes. In fact, customized connectors account for over 50% of our products.
What should we provide for you to design a new part?
Just provide all the information you have (whether it is just a conceptual idea or a detailed drawing) and our team will provide a solution to meet your needs.